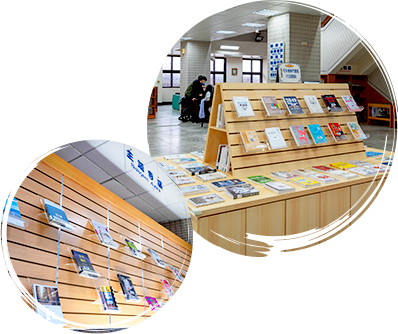 NPU Library was founded in August 1991.
Its establishment can be traced back to the period when the school was the Penghu Campus of National Kaohsiung Marine Institute. After the school was set up independently in August 1995, the Library's organization gradually became more clear and well-organized.
On November 29, 2000, the Library and Information Center was formally inaugurated. With an area of approximately 3,000 pings (a ping equals 3.3 square meters), the Library and Information Center is a six-floor building with one underground basement.
The space of the Library ranges from the underground basement to the fourth floor. At present, the Library is a first-level unit. In compliance with the charter of National Penghu University, one library director is assigned to supervise the overall operation of the Library, and the three sessions: Information Service Session, Technical Service Session and Arts Center, are set up under the director.
Each session is headed by a section chief or chief, who is responsible for the operation and promotion of all issues relating to the Library. A library advisory committee is founded to provide advisory service, library development suggestions and assistance with any other related issues.
 The Library collects a variety of resources, including: Chinese and foreign language books, periodicals, audiovisual materials, e-books, e-journals, and database. NPU Library is the largest Library in the Penghu area. Based on the service spirit, it not only provides service to NPU faculty, staff and students, but is also open to all ROC citizens who are 18 years old or above (and the residents of Penghu County who are 12 years old or above).
 The future prospect of the Library can be viewed from several aspects. Concerning the library collection, in addition to expanding the volume of specialized books and information, the Library will focus its collection on the tourism and ocean resources of Penghu County. Concerning the reader services, the Library will continue to implement a digitalized internet environment so that readers can access the library resources via the internet. Interlibrary loan is employed to extend the off-campus academic research resources and enhance resource utilization. The Library will also irregularly hold various kinds of activities and offer reference services. Concerning the overall development, the target of the Library is to support the school's teaching and research activities. Hence, taking the school's overall development into account, a modern, digital academic research library is established in order to provide NPU faculty, staff, students as well as community residents with a pleasant environment for studying, research and self development.